Welcome to Kitsap Golf & Country Club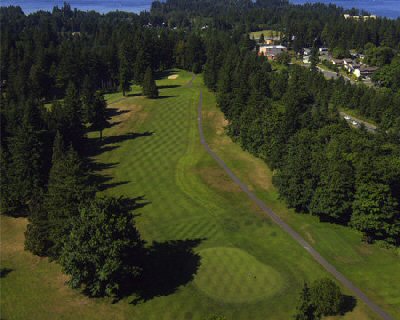 Kitsap Golf & Country Club is an 18-hole member owned private golf course set in peacefully wooded beauty just outside of Bremerton, Washington. The golf club was founded in 1924 by ten men who set out to find a suitable site, eventually buying 57 acres that was once farmland and an apple orchard.

Kitsap Golf & Country Club offers a variety of membership plans ranging from social to full stock. We have over 400 memberships and serve over 1,000 people. The primary membership is Golf Stock. There are over 230 Golf Stock members who own shares of stock in Kitsap Golf & Country Club.

The club has an active men's club, women's club, a beginning women's group and a junior summer program. The clubhouse features a full service kitchen serving breakfast, lunch and dinner ranging from casual to formal. Our Executive Chef can provide a wide selection of dishes to accomodate any occasion. Additionally, our wine selection features some of the finest wines to be found in the Pacific Northwest.

Our spacious clubhouse includes a ballroom for large events, a "cozy" formal dining room, a breakfast & lunch café', full lounge, locker-room facilities, cardio workout room and a cigar bar. There are numerous social and holiday events taking place throughout the year for members and their guests to enjoy.
Browse our website or better yet come in and see what the club is all about. We are sure you'll find that Kitsap Golf & Country Club truly is "one of the best kept secrets in Northwest golf".


Kitsap Golf & Country Club
3885 NW Golf Club Hill Road
Bremerton, Washington 98312
info@kitsapgolfcc.com
360.377.0166